S1E4: There's No Disgrace Like Home
"There's No Disgrace Like Home" is the fourth episode of The Simpsons' first season. It first aired on the Fox network in the United States on January 28, 1990. In the episode, Homer becomes ashamed of his family after a catastrophic company picnic and decides to enroll them in therapy. The therapist, Dr. Marvin Monroe, struggles to solve their problems − culminating in a shock therapy-based showdown between the family members − before eventually giving up and refunding their payment.
S1E3: Homer's Odyssey.
Homer is fired from his job as technical supervisor at the Springfield Nuclear Power Plant. Unable to provide for his family, he contemplates ending it all – until he discovers a new life path as a campaigner for safety
S1E2: Bart the Genius.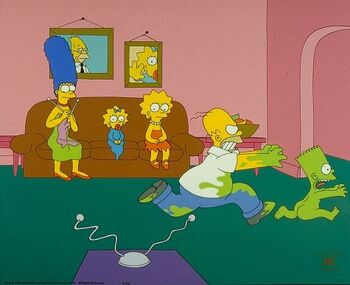 Bart swaps papers with class nerd Martin during an intelligence test at school. When the school psychologist compiles the test results, he believes the switch and refers Bart to the Enriched Learning Center for Gifted Children. The new school's laid-back liberal ethos suits Bart in a brilliant way – until he is asked to show evidence of his neglected genius.
S1E1: Simpsons Roasting on an open fire.
It's a not-so-merry Christmas for the Simpsons. Mr. Burns plans to cut the Christmas Bonuses, Marge has to spend the family's Christmas savings to erase a tattoo Bart thought would make a great Christmas present, and when Homer learns he won't be getting a Christmas bonus, life in Springfield gets even tighter. So what's a breadwinner to do, except take a second job as a shopping mall Santa? Jesse and Greg get the ball rolling on what will be long road to like 700 episodes of the Simpsons!